Where to buy Kefir grains ?
Where to get Kefir Grains ?
Kefir is a cultured milk product which has a huge range of health benefits. It is a creamy product containing a refreshing flavor and a sour tart. It contains plenty of beneficial yeasts and probiotic bacteria that contribute to the several health benefits that kefir boasts of. Kefir is made with kefir grains which are gelatinous yellow or white particles.
What are kefir grains?
Kefir grains contain a mixture of yeast or bacteria clumped together with complex sugars and milk proteins called caseins. The size of the kefir grain ranges from the size of a wheat grain to the size of a hazelnut. The kefir grains properly ferment the milk to produce the cultured product called kefir.
People often get confused about where to buy kefir grains. This is because the kefir grains are not frequently available in both stores and online. There are very few trustworthy sources which sell Kefir grains on the internet. One of the trustworthy sources is Kefirshop.eu. Kefirshop.eu sells fresh an dehydrated kefir grains of good quality. The best thing about Kefishop.eu is that it ships its products internationally. The price of grains that Kefirshop.eu sell is also quite affordable.
Where can you buy the fresh kefir grains?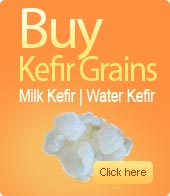 You can go for fresh kefir grains instead of dehydrated kefir grains if you are living in the Europe. This is because you can use the kefir grains immediately after you get them in the mail after a few days. Kefirshop.eu sells fresh kefir grains of a nice quality. One to two tablespoons of kefir grains would be more than enough for you to start making your own kefir.
Live kefir grains are sold at Kefirshop.eu are vacuum-sealed with air and well-packed. Thus, you would be happy to find the grains in a usable and intact condition when they arrive. Many sellers do not seal the grains properly and therefore, due to poor packaging, they are hardly of any use.
Where can you buy dehydrated kefir grains?
If you do not need the kefir grains for immediate use, then you can go for dehydrated kefir grains instead of fresh grains. Kefishop.eu provides the best quality dehydrated kefir grains. The additional thing that you have to do with the dehydrated grains is the process of rehydration. However there is nothing to worry much as the seller would provide you with instructions.
You can get a reasonable quantity of kefir grains within ten euros from Kefirshop.eu. The shipping time is acceptable and the Kefirshop.eu only charge a small extra amount for shipping. The packaging of Kefirshop.eu is definitely worth applauding as they pack the kefir grains in a bubble envelope, after sealing the grains in a plastic bag. Whenever you purchase kefir grains from Kefirshop.eu, you would get an instruction page, which you can follow to prepare the kefir.
What is a freeze-dried kefir starter ?
Many people choose a freeze-dried kefir starter instead of fresh or dehydrated kefir grains. Generally the people who do not have the time to make new batches of kefir every few days choose this option of freeze-dried starter. They are available in powder form. Though they are not actual kefir grains, the freeze-dried starter is a convenient option for people who want to enjoy kefir made at home once in awhile. This is the perfect solution where they don't need to maintain the kefir grains. The best freeze-dried starter can be obtained from the Kefirshop.eu.
There are also some other sources where you can buy kefir grains such as KefirLady and Cultures of Health. However the grains are expensive and the packaging is not too good.